Conditions
Earn the following cashback - 3.75% on full priced orders and 1.50% on sale items for new customers, 0.75% on existing customers.
Earn Up to 3.75% for online purchases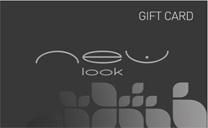 New Look
Conditions
These cards are redeemable in stores and online. We endeavour to dispatch orders by post within three full working days (Mon-Fri).
5% Discount when you buy New Look Gift Cards